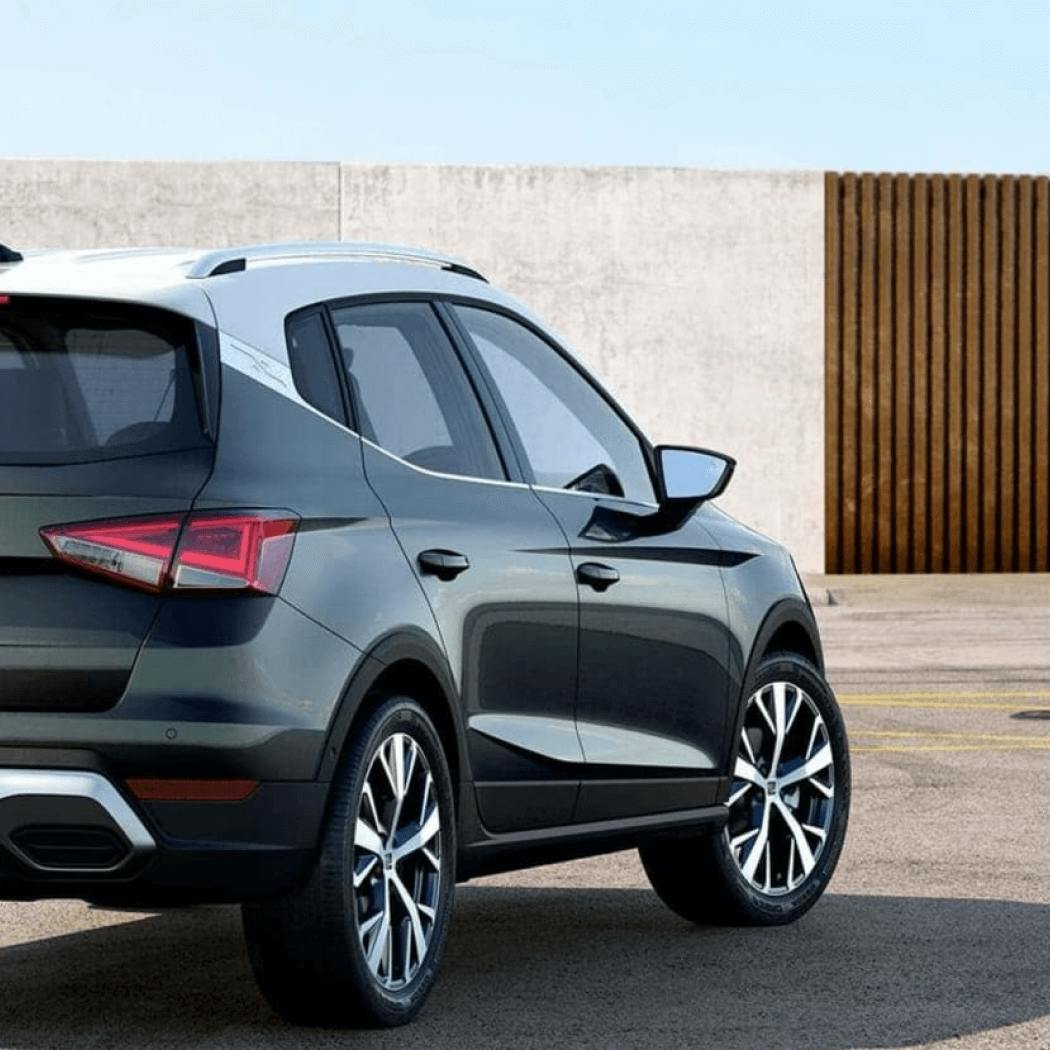 Seat Arona
Automatic
Compact, practical, stylish, innovative. The Seat Arona is robust, reliable SUV ready to take you wherever you want and look sharp at the same time. Its interior equipped with advanced technology provides all the safety you expect from a new car. It's now available on virtuo.
---
A welcome redesign
New front grille and rear spoiler, LED headlights, 17'' alloy wheels, LED lighting inside, leather steering wheel...the Seat Arona is a compact SUV with a strong presence and a style of its own. Rent it today on Virtuo and get it delivered or pick it up in our stations!
Practical and capable
With a 400L boot, the Seat Arona has a decent amount of space to store your luggage and your friends' on that weekend trip! On the driver side, The front sport seats provide a better, more comfortable driving experience while floating 9.2″ touchscreen offers a fantastic user interface.
Great innovations in a small package
Bluetooth® audio streaming and handsfree system, proximity sensor, Navigation system with 3D map, wireless phone charger, Apple CarPlay, Google Android Auto, USB type-C cable, six speakers...The Seat Arona packs a lot for such a compact car. And there's more.
---
Interested to rent the Seat Arona?
We guarantee you'll get the Seat Arona at Virtuo! For a day, a weekend, a month or more, book the crossover SUV and its generous mileage package. With our app and website, rental, cancellation and delivery are super fast.
---
Where is the Seat Arona available?
You can book the Seat Arona right now in Italy, Portugal and Spain! Rent it at one of the Virtuo stations open 24/7 or have it delivered. In a few clicks in our app, you'll book and receive or pick up your vehicle; that's the Virtuo way.
---
Drive Free
Our flexible leasing offer allows you to lease the Seat Arona for as long as you like, renewing every 90 days from the app or the Virtuo website. Rent the way you should with Virtuo.
---
For the city and beyond
Rent the Seat Arona today and take it wherever you want! Our cars are insured Europe-wide and can take you anywhere.
---
Car model specifications
Here is a table displaying the main key features of the Seat Arona you can rent with Virtuo.
---
Discover other virtuo cars