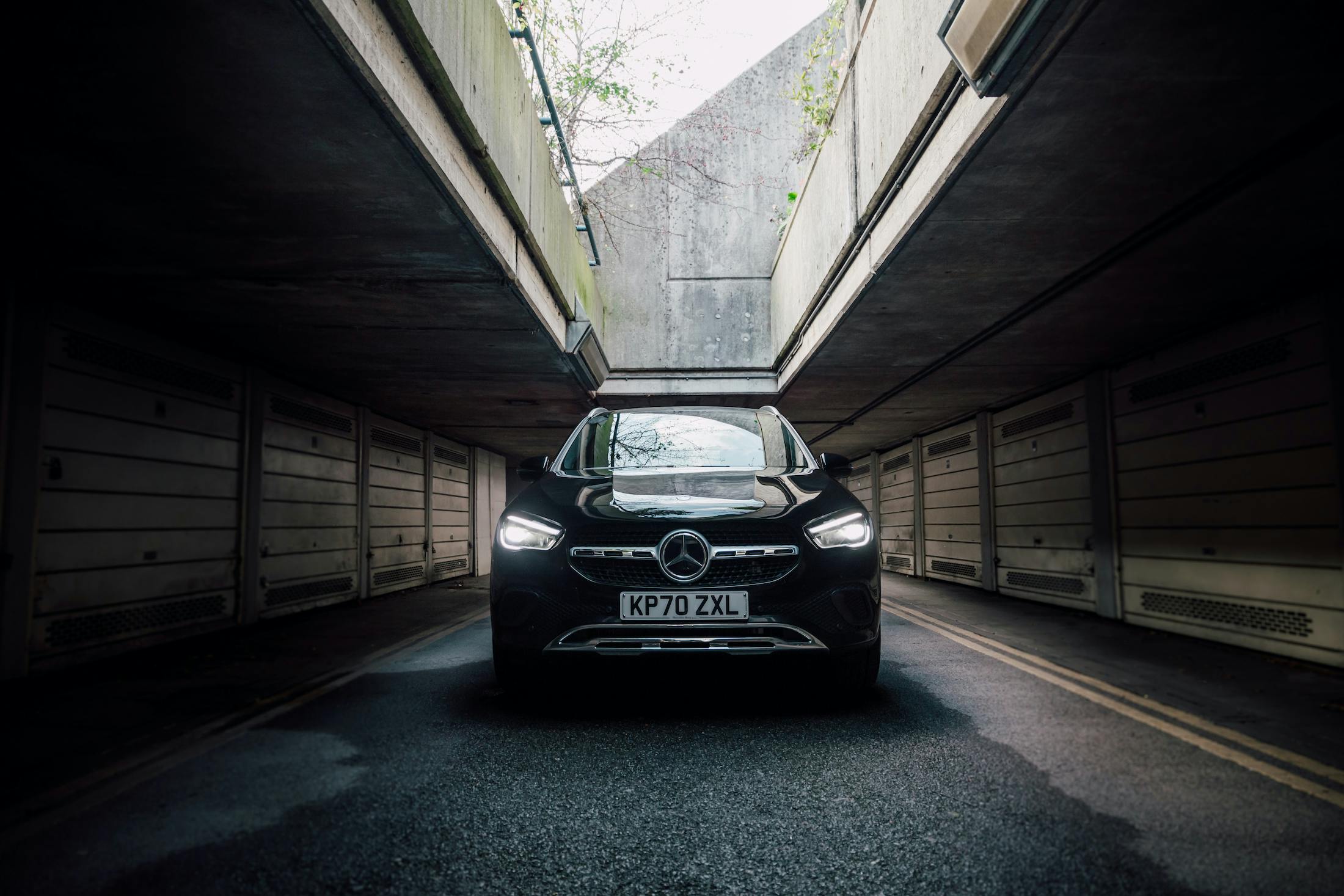 Why hire the new Mercedes GLA?
Automatic
A bigger, bolder design, a tech-packed interior with extra leg room and boot capacity - the most versatile SUV just got even better.
---
The new generation of SUV
A modern, revamped exterior with a spacious high-tech interior
Bigger and bolder
More passenger leg room, bigger boot, taller ride height and chunkier size - the new GLA is a proper SUV with space for whatever you need to bring.
Brimming with technology
Extra-large touchscreen, MBUX, active parking assist, voice control and more. A seamless tech-filled car to match a seamless tech-based car rental.
Refined style
Smoother lines, bigger wheel arches, and a completely reworked back end; be the envy of your friends, family and colleagues as you cruise by.
---
Key Features
Take your Virtuo experience to the next level with these amazing new features
The GLA has long been a staple of Virtuo. A versatile, dynamic car that is as comfortable in the city as it is out on country roads. As with all good things, there's a time when they need to allow a new generation to come in. Now available on Virtuo is the all new Mercedes GLA, a modern take on the original that is a luxurious and practical upgrade. Enjoy more space, more technology, an all new exterior, an efficient engine and more. 
Booking and driving the new GLA has never been easier. With Virtuo, you can book and unlock this amazing new car, all through your phone - no queues, no hassle, just car rental how it should be. Furthermore, if you are in London's zones 1-3, you can also enjoy your new GLA delivered to your door. 
---
The ultimate roadtrip companion
At Virtuo, we are all about the road trip and escaping the city. The new beefed up, spacious and practical GLA is the perfect partner for your escapes. Whether going on a short weekend away or needing to load the spacious boot up for a European road trip (don't forget we have Europe wide insurance), we are sure the GLA will get you there in style. 
---
Old vs the New GLA
Side by side comaprison of the two
Old GLA
5 Star Euro NCAP Safety Rating

Automatic transmission

MBUX

Extra ride height

Extra Boot Space

Extra leg room

Autonomous braking system

Active Parking Assist

Touchscreen
New GLA
5 Star Euro NCAP Safety Rating (expected)

Automatic transmission

MBUX

Extra ride height

Extra Boot Space

Extra leg room

Autonomous braking system

Active parking assist

Touchscreen
---
Why rent the GLA with virtuo?
Renting a SUV actually becomes an enjoyable experience with Virtuo and renting the new GLA with us is no different. You can hire the new Mercedes GLA for short and long term rentals with the option to rent from 1 to 90 days means there is a solution for whatever your need. The best part is, you actually drive the car you booked! No exchanges, no extra charges, no upsells, just the car you actually wanted not 'something similar'. 
As always, Virtuo customers can simply book and unlock your car all through your phone with the app, a completely contactless experience. Our prices are always competitive and you can hire this SUV 24/7 as at Virtuo we don't close which means more time for adventure for you in one of our premium cars.
---
Live in London zones 1-3?
Since the launch of our car hire delivery and collection service in London on the Virtuo app, you can now have your new Mercedes GLA delivered to your door, across London's zones 1-3. The entire service is 100% contactless, so you can just start the rental from your own address when you are ready. Search in the app now to discover availability in your location.
---
Need to get around for business?
Do you need a new SUV for your business to make the most of the extra boot space or travel in extra comfort? The new Mercedes GLA is available as a business car rental through Virtuo for Business. Get in touch with the team today on the website to see how we can help you and your colleagues travel more seamlessly 
---
Gallery
5 reasons to try the new Mercedes GLA
---
Car model information
A list of the main key features for the Mercedes GLA 2020 you can rent with Virtuo.
| Car characteristics | Value |
| --- | --- |
| Car body type | SUV |
| ACRISS code | PFAD |
| Transmission type | Automatic |
| Seats count | 5 |
| Doors count | 5 |
| Luggage capacity | 3 |
| Backup camera | Yes |
| Bluetooth | Yes |
| GPS | Yes |
| Prices from | From £50 / day |
| Number of cities available | 2 |
| Number of stations available | 20 |
---
Discover other virtuo cars