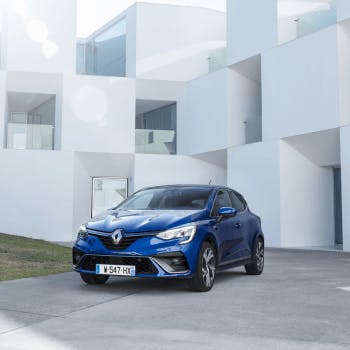 Renault Clio 5
Manual
The Renault Clio 5 is the latest generation of the French carmaker's best-selling model since 1980. Discover or rediscover the virtuo magic in a compact, robust and affordable car.
---
The French compact car par excellence
Drive through the city and beyond
Affordable
At this price, you can leave right away. The Clio 5 is your perfect ally for your city commute or weekend getaway. Get the Virtuo essentials at an affordable rate directly via the application.
Resolutely new
Keep the best and innovate. The interior of the Clio 5 has been totally revamped. You'll love its enveloping high-tech cockpit.
Connected
Inside the Clio 5 you'll find the largest touchscreen in its class. Make all your journeys easier with the connected navigation system, Google search, Apple care, etc. With the interior of the Clio 5, Renault offers you a user-friendly connected driving experience.
---
Want to rent the Renault Clio 5?
At Virtuo the model is guaranteed! Whether it's for a day, a weekend, a month or more, it has never been easier to rent the Renault Clio 5. This compact car will surprise you. Take advantage of a Clio 5 rental at the best price on the market and without any constraints.
---
The iconic Renault Clio is now available for booking on virtuo
The Renault Clio model has marked generations. From 1980 until today, the robustness of the Clio has allowed it to be the car of all eras. Book your Clio 5 now at an unbeatable price via the Virtuo application.
---
Interested in a long-term Renault rental?
You can rent one of our Clio 5 automatic cars for up to 90 days. We offer an unbeatable long term rental. It's an excellent alternative to long-term leasing and LOA. Once this period is over, you can re-book the same vehicle directly from the Virtuo application.
---
Car model specifications
Here is a table displaying the main key features of the Renault Clio 5 you can rent with Virtuo.
---
Discover other virtuo cars