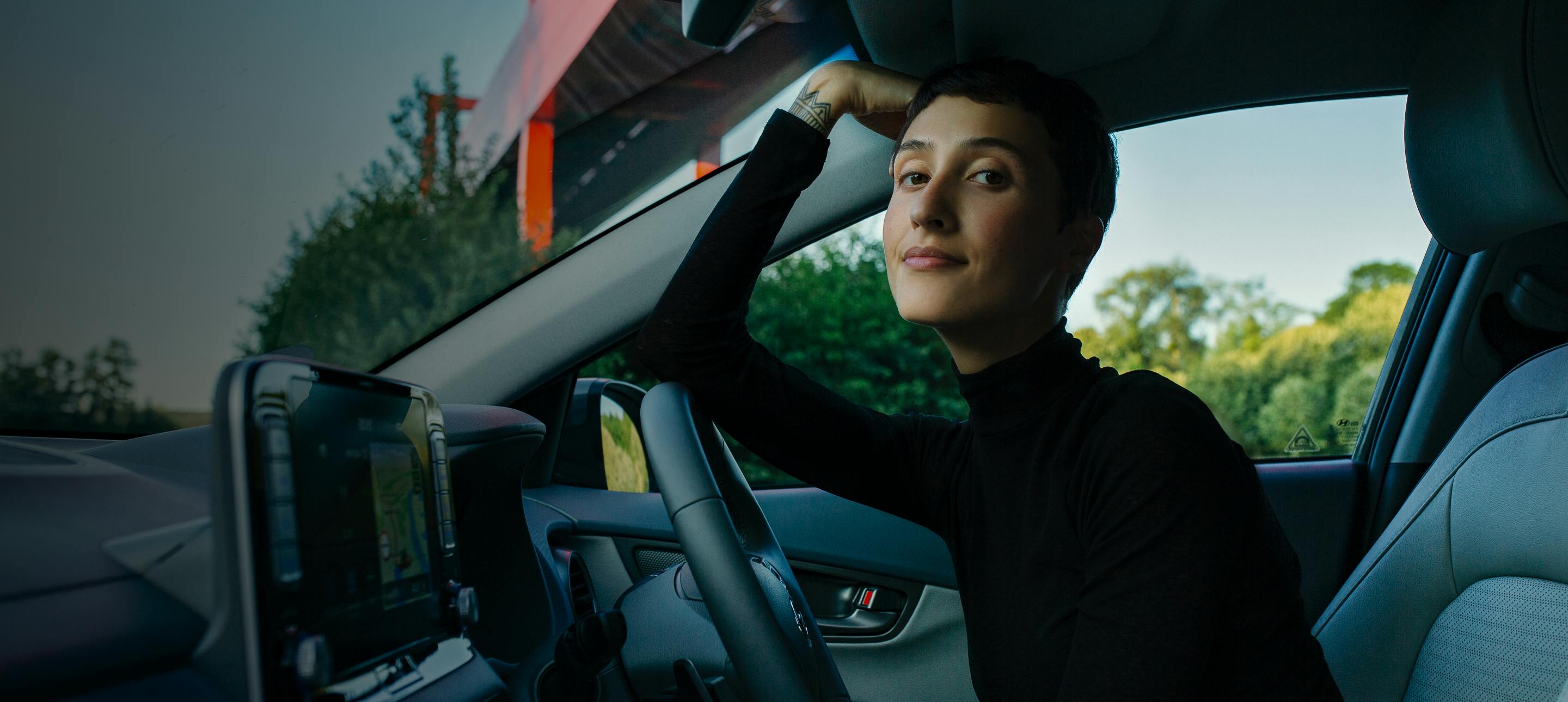 All-inclusive Hyundai Kona Electric rental
The 100% electric urban SUV, offering battery life that is on a par with your thirst for adventure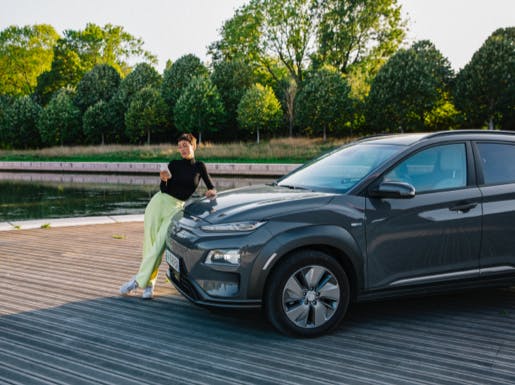 Fancy going electric?
This 100% electric SUV from Hyundai offers exceptional battery life, which makes it perfect for long journeys outside the city. Our tariffs include free access to a large network of charging points in France - benefit from a car rental experience with no constraints, whether economical or ecological.
---
Hyundai Kona Electric, the car for the eco-friendly adventurer.
Want to stay environmentally friendly on your travels? This vehicle offers all the benefits of an SUV, without compromising on battery life.
Ecological and economical driving.
Renting the 100% electric Hyundai Kona with Virtuo will not only allow you to reduce your CO2 emissions, but also to cut down costs on your travels. Thanks to our 'charging included' policy, your fuel fees will amount to €0, compared to €40 for a 200 km journey in a combustion-powered car.
Electric? - yes, but reliable too.
With one of the longest battery life ratings on the market, the Hyundai Kona puts an end to prejudices against electric vehicles. With this car you can go on holiday, head away for the weekend, or visit your loved ones - without having to worry about your mileage.
Experience without limitations.
Renting an electric vehicle has never been so easy! Thanks to our in-app features, you can find charging points along the entire length of your route. The badge provided grants you access to more than XXXXX terminals in France. You can leave your car charging overnight, or stop for a quick charge along the motorway. Find out more
---
Reliable electric car for a weekend away ?
Do you want to rent a reliable electric car for a weekend away, to visit your loved ones or to enjoy an eco-responsible holiday? The Hyundai KONA is made for you!Book your 100% electric car rental with Virtuo and enjoy an experience without any constraints, offering the best value for money on the market. This 100% electric urban SUV is valued for its exceptional battery life, which makes it perfect for getting around in the city centre, but also for when venturing outside the city. 
Book this electric car now in Paris, and collect it 24/7 from one of our many locations. 
---
Need an electric car for a day, a weekend or a month ?
With Virtuo, you can rent the new Hyundai KONA for a short or long term in our Paris locations. Our rentals include a fixed mileage allowance of 150 km per day, however, if you wish to travel further, you can always adjust the mileage allowance via the app. Run a price simulation, with no commitment and no hidden costs, directly on our website or in the Virtuo app.  
---
Are you interested in renting an electric vehicle for a month or more ?
With our flexible car leasing offer, you can book your Hyundai Kona for a period of up to 90 days. An excellent alternative to a long-term rental or rental with option to purchase, if you don't want to commit to buying. Once the term comes to an end, you can simply make another booking for the same vehicle. Yes, at Virtuo we guarantee your chosen model! To rent with Virtuo is to choose a car rental experience that offers the best value for money. 
---
Features
Here are the options included with our Hyundai Kona Electric.
The Hyundai Kona becomes the first 100% electric model in the Virtuo fleet. Covering more than 1,000 km without having to stop and without exhausting the battery, it broke battery life records in 2020.  This car offers all that our customers are looking for in an SUV, but in an electric version.  
---
---
How does Virtuo work?
Enjoy hassle free rental by booking, locating and unlocking your car with the Virtuo app.
---
Discover other Virtuo cars